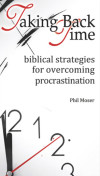 biblical strategies for overcoming procrastinationThe clock is ticking and you feel the pressure rising. Your "to do" list grows longer while you put off the things that really matter. Taking Back Time reveals the three culprits behind our tendency to put off until tomorrow things that should have been done today.
A Biblical grid is provided to determine proper priorities, and thus overcome procrastination. Includes: biblical prayer patterns, a daily Bible reading schedule, and key memory verses for overcoming procrastination. Paperback, 80 pages.
A 10-pack of any book is only $64.90 ($6.49 per book). A 20-pack is only $99.80 ($4.99 per book).