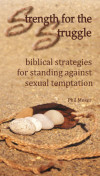 biblical strategies for standing against sexual temptationFirst you were only curious. But now you're shackled by lust and desire. Too ashamed to ask for help, you struggle on in secrecy. You desperately need strength for the struggle. This study examines sexual temptation from the Scriptures and offers help for standing against sexual temptation through the example of Jesus.
Includes: biblical prayer patterns, a daily Bible reading schedule, and key memory verses for standing against sexual temptation. Paperback, 80 pages.
A 10-pack of any book is only $64.90 ($6.49 per book). A 20-pack is only $99.80 ($4.99 per book).