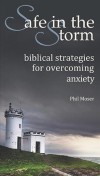 biblical strategies for overcoming anxietyAnxiety is a common struggle that many Americans face. Sometimes the anxious feelings come on like an unexpected storm; it's easy to feel afraid. Other times, the anxious thoughts linger.
We try to drive them from our mind, but they keep returning. Safe in the Storm provides Biblical strategies for overcoming anxiety, and its accompanying thought patterns. It offers a careful explanation of key biblical passages as well as their practical implications. Suggestions include a 28-day Bible reading schedule, key verses to learn using the Scripture Retrieval method, and recommended prayer patterns for those who struggle with anxiety. 64 pages, paperback.
A 10-pack of any book is only $64.90 ($6.49 per book). A 20-pack is only $99.80 ($4.99 per book).