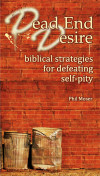 biblical strategies for overcoming self-pityDiscover God's thoughts on self-pity through his dialogue with Cain, Moses, Elijah and Jonah. God provides both firm warnings and gracious solutions for those who find themselves on this dead end road.
Practical suggestions include a 30 day Bible reading schedule, key verses to learn with the Scripture Retrieval method, and recommended prayer patterns for those struggling with self-pity. 65 pages, paperback.
A 10-pack of any book is only $64.90 ($6.49 per book). A 20-pack is only $99.80 ($4.99 per book).