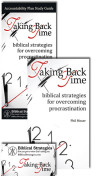 Order Taking Back Time, the Taking Back Time Scripture Retrieval System, and the Taking Back Time Accountability Plan Study Guide!
About Taking Back Time: The clock is ticking and you feel the pressure rising. Your "to do" list grows longer while you put off the things that really matter. Taking Back Time reveals the three culprits behind our tendency to put off until tomorrow things that should have been done today.
About the Scripture Retrieval System: Key memory verses have been selected to accompany Taking Back Time: biblical strategies for overcoming procrastination. Scripture retrieval is an essential resource for Christian living. To expose temptation's deception we memorize ten verses in the lie/truth formula. To weaken temptation's appeal we learn ten promises about the character of God and the nature of the gospel. To aid in understanding, biblical commentary is found on the back of each card.
About the Accountability Plan Study Guide: The guide accompanies the book Taking Back Time: biblical strategies for overcoming procrastination. It is intended to assist you in personal study, counseling or discipleship. It can also be used to lead a small group study through Taking Back Time.
More about Taking Back Time: A Biblical grid is provided to determine proper priorities, and thus overcome procrastination. Includes: biblical prayer patterns, a daily Bible reading schedule, and key memory verses for overcoming procrastination. Paperback, 80 pages.